September 1, 2012
Bioischanged: lets you know which of your twitter contacts changed their bio and avatar
Bioischanged is a web application that lets you know when one of your contacts changes their bio and their profile picture.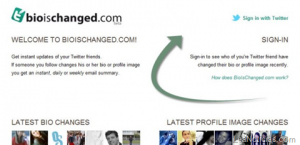 To use this application only connect to twitter from the website, authorizing the application and automatically starts searching for the bios and profile picture of your friends that have been modified.
Once you find the changes, reports to the vicissitudes of the accounts that changed in two tables with the vicissitudes of modified accounts. One of them that changed their bios recently and others with those who changed their profile image.
From there, if they go to Change Your Settings can tell the service to send them an email with the changes that are taking place. That email can be sent immediately after a change, once per day with all the change that day or once a week with all the changes that occurred that week.