September 24, 2011
Deletes your existence in social networks with Web 2.0 Suicide Machine
By
admin
Facebook you got fed up and Twitter not get excited as before. If you do not see no meaning to your existence in the social networks, perhaps it's time away from them. Put an end to your virtual life effectively with Web 2.0 Suicide Machine.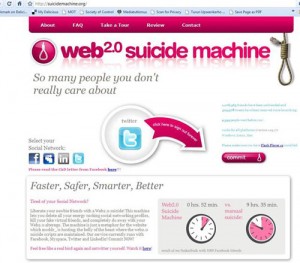 With Web 2.0 Suicide Machine, you can erase your presence in a number of social networks almost automatically and without having to make time-consuming processes you would have done if you were one by one.
Its creators claim that you can remove yourself from social networks in just 52 minutes. If you did it manually, it would take 9 hours and 35 minutes. A great idea, for now only works with Twitter, MySpace and LinkedIn and they were forced to stop offering their service to Facebook.
What do you expect? Say goodbye forever and commit suicide in social networks. Your friends miss it two or three days, but soon you forget. In addition, you gain a lot of time with your family in real life where you will be full of health and energy.