September 16, 2012
FanMix: manage multiple social media accounts in one place
By
admin
FanMix is a web application that allows you to manage multiple social media accounts in one place, very similar to an inbox of email.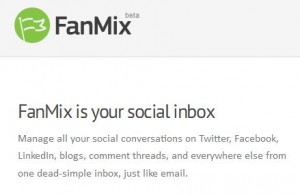 This is something different to a client as Hootsuite, works differently and assures us not to lose any mention that makes our accounts.
But do not think that it can only make comments to Twitter or Facebook, also includes blogs and other sources. You can see all the messages and also you can search every conversation you had with a certain person or about a special topic. It even allows mix talks.
An example of this can be when we sent a tweet that is also posted on Facebook and we received responses in the two sites, FanMix lets you reply via one, the other or both, through a message only, without having to repeat.
We can also inquire about our contacts, with whom we connect more and who has the biggest audience of all.
Another interesting feature is the ability to mark talks and share them with our team, collaboratively through the Priority Inbox.