April 26, 2009
Five Real-Time Ways to Find Twitter Users Near You
There are several ways to find out who is tweeting near your location.. apart from searching on Twitter ranking lists, you can do a real-time scan of tweets using several tools. Here are some ways you can find Twitter users near you!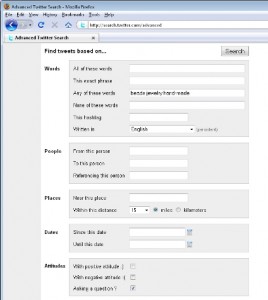 Twitter Advanced Search
Twitter's very own Advanced Search gives you the option of zeroing in on tweets from users within a specific location. See the images below for Twitter's built-in advanced search.
Nearby Tweets
Nearby Tweets allows you to find twitter users who are tweeting near your location. Enter in the keyword for what you're interested in and select a location: you'll then see a list of Twitter user avatars on the left and the latest tweets on the right.
Twitter Local
Twitter Local was one of the earliest location filtering tools, it used to be web-based but now its an Adobe AIR app. You can't do much interaction with other users although it allows you to keep your browser closed.. you can pull it up anytime for a quick glance at what's happening.
Monitter
Monitter allows you to input a couple of keywords and track what the twitter community is saying. It's a browser-based tool, and all you need to do is to open it in a new tab, put in your keywords and the tweets will stream past continuously. You can chose to receive tweets from a specific location, for example 10km of Manhattan.
TwitterFall
A simple Twitter keyword tracker, Twitterfall streams tweets on a topic constantly and you can click on trending topics or geo-target tweets by selection a location and the distance. After that you can slow down the frame rate and if you are logged in, you can even reply users directly, which is very convenient.