November 6, 2012
Parrotfish: Extension to preview multimedia content on Twitter
Twitter is credited with many applications that allow us to strengthen the functions that it does not offer, or simply set that we like.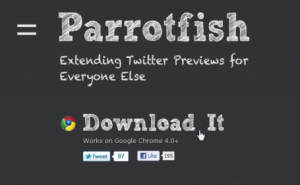 An interesting point is for users to view multimedia content that our fans share, well today we bring an excellent extension to help us in this way, it has the name Parrotfish.
Parrotfish is a Firefox extension that provides the functionality of being able to preview multimedia content shared on Twitter, everything from our favorite browser.
The truth is interesting because we are interested in the content but because we no longer click on the link!