April 8, 2015
Spruce lets you add text to an image and then share on Twitter and Facebook
Spruce is a web application that allows you to choose an image, write text on it and share on Twitter or Facebook or simply download to your computer.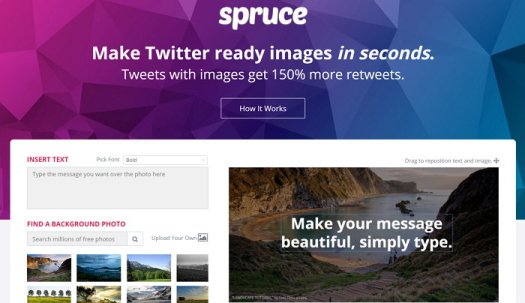 It is a tool similar to Pablo by Buffer, although Spruce does not support adding a second line of text, as thus also allows you to upload logos to apply as a watermark on the images.
Spruce looking for sources like Flickr images tagged as Public Domain and Creative Coomons, which can be used freely. In addition Spruce adds the appropriate credit to the author of the image automatically, so the user should not worry about this and whether you want to use your images, so you can do without problems.
Once you have the image, choose the font to use and you can start typing the text, which can move the image area you wish.
Excellent for create images quickly and share appointments, message, or any other text, so the tweet or status update can be more attractive and increase the participation of users.