May 23, 2012
Twitcam: The fashion of the day on Twitter
Twitter is emerging as the fastest growing social network worldwide, and slowly emerging applications will allow us to use it 100%. If you use Twitter, you'll surely be interested in what Twitcam has to offer you.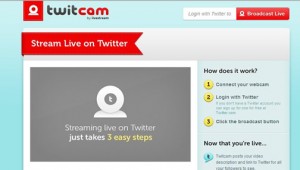 It is a tool that lets you stream live video through your webcam, which can access all your contacts thanks to a link as a Twitter message.
Twitcam is very simple to use: you just need to connect your webcam, give authorization to the application to work within Twitter, then click on Broadcast button.
In seconds you can start your own TV show on Twitter, with a level of audience that can reach thousands and even millions, depending on the quality of your work.
Free, Twitcam also allows you to save previous transmissions for viewing whenever you want, giving you access to your followers.