May 25, 2012
Enjoy the most discussed YouTube videos on Twitter with Zoofs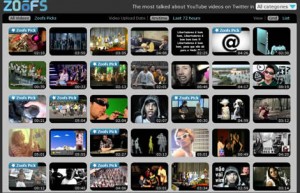 Surely more than once you have recommended a good video via Twitter, where wealth is shared multimedia content. If you want to know what are the most popular, there is a place that brings them together.
Zoofs, a portal that brings together videos of YouTube received more mentions on Twitter, a good indicator to tell you what the contents more interesting.
In Zoofs you can find thousands of videos of different topics, but share something in common. This is popularity, being the most discussed within the network of microblogging.
You can enjoy all the contents of Zoofs completely free simply by entering website, ensuring you see the best of the best, leaving happy to the most exacting.