December 28, 2012
Twitter incorporates filters to photos and editor
As you'd advance microblogging network provided an update to its mobile version that includes a series of filters for retouching images. The new features are now available to all users, you can tweet your photos with typical yellow tones that add such tools.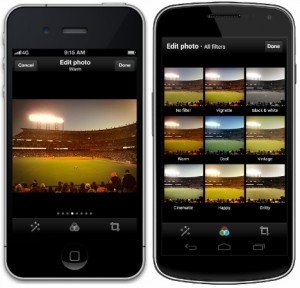 The Twitter app for iOS and Android has just added eight filters for photographs: black and white, Warn, Cool, the inevitable Vintage, Cinematic, Happy, Vignette and Gritty. We also included other basic editing functions like crop, zoom and self-improvement of the image. It is a strong response to the new policies of Instagram, which no longer allows Twitter to display our photos.
This new update is now available for download at the online stores of Apple and Google. Although eight filters and some extra features sound a little compared with the offer of Instagram, which also has just been updated, or other editing tools like those possessed Google+ or which provide applications such as PicMonkey on Facebook; the fact is that this is only a beginning for Twitter and could win many new users.