December 26, 2012
Young people use Twitter from the bathroom
Before, people had a good book or magazine before going to spend quality time to the bathroom, but now things have changed and instead of bringing reading material, they bring with them other things.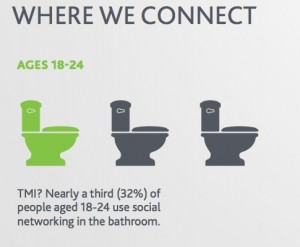 The 32% of young people tweets from the bathroom using their mobile phone or tablet. The figure corresponds to a study by Nielsen in the United States and gave very interesting data.
Meanwhile the persons younger than 24 years take Twitter to the throne, more than half of users whose ages range between 25 and 32 years, using the social network when they are at work.
And what about Americans talk on Twitter? A quarter of them discussed the TV program they are watching at that time and for that they use their phones. Those who prefer Facebook, usually enter the social network from fixed computers.
The use of Twitter from mobile phones rose 140% from last year, an increase which was only surpassed by Tumblr and Reddit, whose use from smartphones grew by 162% and 153% respectively.
The 2012 was undoubtedly a good year for Twitter, the social network which has more influence in our daily activities not only as individuals, but also at the society level.
Another social network that also had an excellent year was Pinterest, which grew dramatically, showing that images can speak louder than words.