August 3, 2012
Twitter: The reasons may suspend or terminate your account
The social network of microblogging, is a great place to express yourself, but if you break the rules, your account may be suspended or terminated.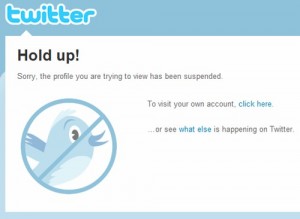 Today, we are going to tell you the reasons why Twitter may suspend and even eliminate your user account. In general, the microblogging network will give yourself three opportunities: The first time you receive a warning, the second one a temporary suspension and, the third infraction, they cancel your account forever.
Provide private information of others: If you post phone numbers, home addresses and private email, you are violating the rules of Twitter. Same for card numbers, passport, social security or credit cards.
Threats: If you write a tweet calling for violence, whether physical or psychological, or threatening someone, you can be expelled from Twitter.
Illegal activities: Piracy, publishing pornography or violations of intellectual property rights, can avail yourself expulsion.
Spam: The indiscriminate sending of Spam, you can avail yourself expulsion. Twitter has its ways to recognize accounts created to distribute garbage. One is to monitor those who follow more than 2 000 people.
If you follow more than 2 thousand people, but you have a great amount of followers, your account is out of danger, since Twitter is fixed in the difference between the two numbers.