April 2, 2012
A better way to use Twitter with Tweetfilter
On the web, you may find interesting extensions to customize adapt or change the profile of Twitter. The tool Tweetfilter, an extension compatible with Firefox 3.6+, Chrome 10+, Opera 11+, Safari 5+ and Internet Explorer 9+ , which serves to increase the number of options for customizing the Twitter account, including a species of cleaning of the timeline of Twitter.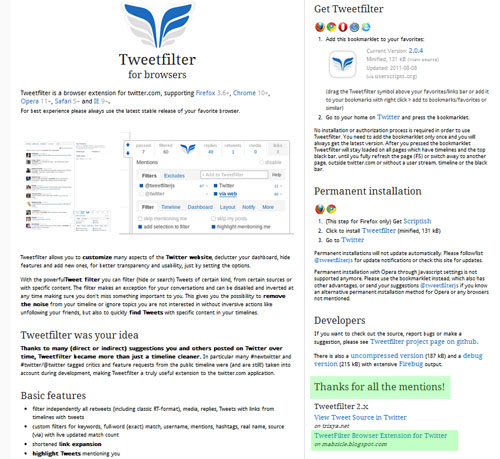 With Tweetfilter 2.0 can handle many sections of Twitter, with the intention of highlighting the parts that interest you and eliminate those who do not have any significance for the user. Some of the most important features are:
The ability to relieve the "dashboard" and Twitter's main window, removing and adding new panels to provide more transparency and usability to the profile.

It contains a filter with keywords to set custom parameters for Tweets, so that only show messages that interest you, leaving out those who do not matter at all to the user. Of course, these filters can be modified or deleted at any time. This function is removed from the wall all those Tweets that are only desired noise and take up space.
Tweets that mention the owner of the account will be highlighted to promote discussion on Twitter.
Tweetfilter 2.0 is the product of the comments and suggestions of many users of Twitter for a long time, integrated to form an appropriate extension to address the needs of people who use it constantly. The most outstanding feature is the possibility of creating a large and varied number of filters for the information that is shared on the network, and giving more control.
There are two ways to use Tweetfilter, the first is through the installation of the extension directly in the browser of your choice and with which you will not get automatic updates. In the specific case of Firefox, you should also download the script before proceeding with the standardized steps. The second is using Tweetfilter as a "bookmarklet" which lets you get all the updates to the extension at the same time they appear.