July 1, 2012
Cinch: Post audio recordings on Facebook and Twitter
By
admin
We often have audio material in multimedia formats that we would like to reach our users but most of the time and do not know how social networking is the best vehicle for us to present these materials, given the large number of people we can find on sites like these.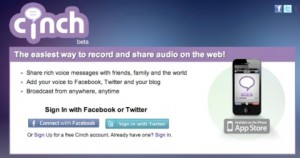 Cinch is an application that will help us publish audio files of our social networks, particularly in Fabook and Twitter. Cinch, is the easiest way to spread through social networks already mentioned our materials, whether they are treated in declamation, storytelling, musical demos or up to a podcast, which may in fact be the most common file today as audio refers to the web.
This application allows us to replace complex tools by using simple interface that any of us will be able to use without any problems. Cinch also gives us the possibility of being used from an iPhone by making it a tool worthy of taking into account.