June 28, 2012
GTweet: Read Tweets in Google Reader
It is no secret that we can read our Time Line from other applications, some with better interface than the same Twitter. If you're one of those who like some interface like Google Reader to read your stories, maybe this can get to be interested.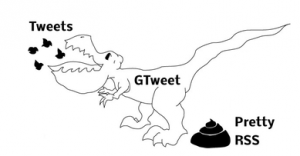 GTweet, is a program through which we can read our tweets on Google Reader, all thanks to the API, which allows you to subscribe to Twitter as if it were a RSS news feeds, in our Time Line of the famous social network.
The way in which GTweet works is rather simple, as already mention that it is by means of the API, Twitter ask us if we give it access to the tool to our Twitter account when it asks us, this is done the same system will subscribe to your Time Line and lists that you find in your created account.