March 28, 2012
Create and share requests on Twitter
By
admin
Twitition is a page to create and share requests on Twitter, is an online application that helps through a comprehensive platform for the call options on Twitter have more success and more people will join a special request.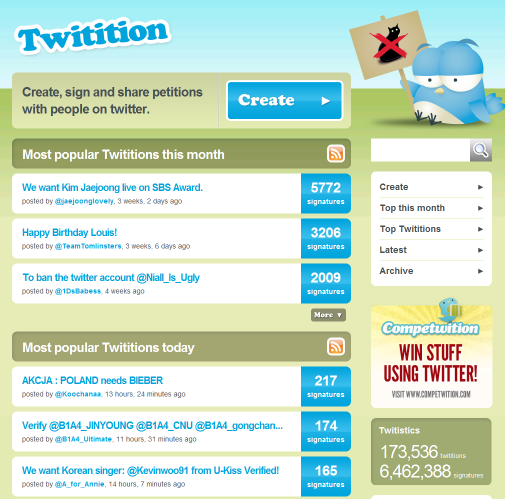 Twitter users can use this tool to make their own demands in different areas today, or join a petition already exists which we can see several examples on their home page. On this site we can also find a selection of the most popular requests in the month as well as an archive of several already accumulated requests and continue existing.
The procedure for creating a request itself is very simple and basically requires a good topic and a Twitter account, then through a link the user enters a title and a description and then to authorize the connection to the Twitter account is obtained a new page with information about the request, which shows the number of users that support this request plus it also offers alternatives to share on other social networks such as, Facebook, Delicious, Reddit and Digg, no doubt is a very interesting supplementary option primarily for Twitter.