March 26, 2012
Twellow: Catalog & Directory for Twitter
Twellow, like the Twitter version of Yellow pages is a catalog and business directory for Twitter. Twitter profiles are listed there, and well organized by category.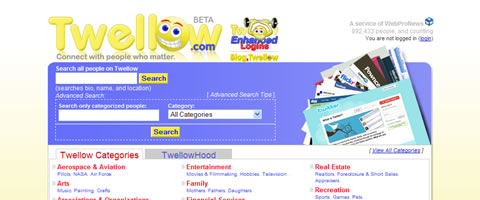 The search function is very user friendly, the catalog categories are chosen very well, all business and financial services, international business, information technology, computers, movies, music, communications, celebrity, Hollywood, marketing, consulting, sports, news, etc.
A lot of Twitter users have logged in there, registration is free, and so anyone can enter their name and profile in the Yellow Pages. The system recognizes your Twitter profile data and transmits it directly to catalog. Of course you can also edit the data.
The catalog categories or sectors will also automatically recommend and registered by a short description of your Twitter profile. You can define up to 10 categories themselves, and this is very important because it appears in your profile in the corresponding catalog pages.
To add new categories, you should normally navigate the book industry, and where a suitable category is found easily click on add me.
The profiles in a category are usually sorted by the number of followers and displayed, it means to have a lot of followers is not so bad. Nevertheless, a listing in the yellow pages is very helpful, the site has many visitors, your presence in the long run Tweellow is a continuous source of visitors for your Twitter profile, or to your blog or website.