October 25, 2011
Creates and supports campaigns and petitions with Twitition to Twitter
You would like your favorite group to come to play for your country or to stop passing cigarette advertising on TV. We all have something by which we fight and social networks make us it easier.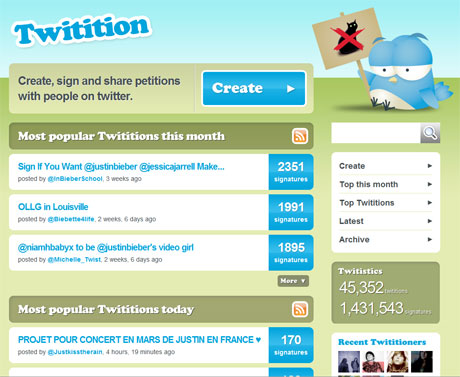 If you have cause or want to get something, it's best to do together and what better way to invite others to join your crusade through Twitter. For this, there is Twitition.
This rather strange name service Twi (Twitter) tition (petition or request), you can create all sorts of online campaigns and then disseminate through the microblogging, adding the support of people around the world.
Free, in Twitition anyone can generate a request. Only just a little inspiration to give a good title and description, in order then to cause to walk, spreading via Twitter.
If you want to see the causes of others, you can enter the site and look Twitition which have been published form those recent or most popular, with a space for the Top of the month.
Excellent ideas to start citizen campaigns, taking advantage of all the power that have the social networks, to get what you want, following your ideals.