June 4, 2012
Find all links submitted by a user of Twitter
It would be great to see all links that person has ever posted on Twitter. If that is your desire, there is an online tool that will make it so, it is TwitFlink, where users simply indicate your interest, you'll get those links shared during the time it takes microblogging network.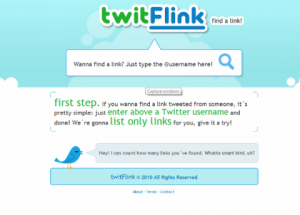 Very useful and simple to use, TwitFlink is ideal for those who find someone interesting on Twitter, and want to know about the contents of their past tweets. Just enter your username, preceded by an @, you get the list of all links you have sent, regardless of the number of months or years to carry on the service.
If you just want to see some kind of links, allows you to filter TwitFlink to your needs and interests.