August 27, 2012
FollowerWonk: Find and analyze Twitter users
Find people who to follow on Twitter is easy the problem comes when one is looking to follow only professionals in a given topic and are highly influential.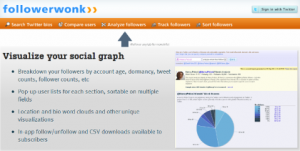 For these cases there are applications like FollowenWork which lets you search find people on Twitter by a particular keyword should be in his biography, when performing a search will show a list of Twitter users who have the following data:
Influence of the account.
Number of Tweets.
Number of people who follow.
Number of followers you have.
Days of the account is created.
With these data you know that Twitter account is highly influential in the network, as well as whether it is a professional in what you are interested in.