November 27, 2012
LiteFeed.com: Everything that you like about Twitter in one place
Twitter has a very quick dynamic especially when you increase your row, in its interface whenever we click on a link that goes to another browser tab, having to leave the site.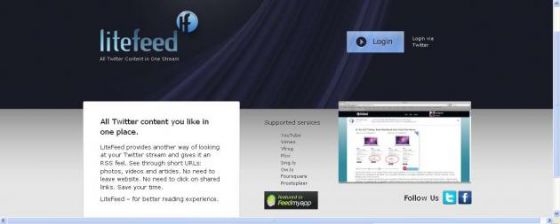 Well today I found an application called LiteFeed.com, which will help us a lot especially because this service presents tweets and we can see all content without having to leave it.

LiteFeed.com gives us the possibility to view via short URLs regardless of the contents thereof which can be videos, photos and articles.
This can save us much time and would be an interesting way to see Twitter, I hope you like it has a tremendous interface but sure it evolves very well, is also free and works with your Twitter credentials.