April 7, 2012
Metro Twit: an interesting client for Twitter
More and more people use Twitter and while we can use it from the official website of microblogging network, there are also other more complete and interesting alternatives and, today, we bring you one.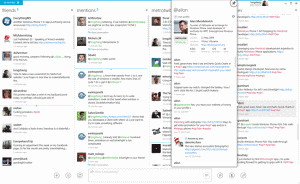 It is Metro Twit, a Twitter client for Windows, which presents us with an attractive design, absolutely customizable interface, and unlike others, constant access to all our tweets.
If there is one quality that defines Metro Twit, that is personalization and remaining in the user decide the order of things, forms of organization of the elements within the window, priorities, etc., besides being lightweight, without spending large resources of the system.
Another point that I liked a lot, is that not limit the number of messages you can see inside application, because as you go down into the window with your timeline, they will download your old messages, providing access to them.
Metro Twit supports Windows systems and it is a completely free application and without much effort, is positioning itself as one of the best of its kind.