April 21, 2012
Publish and share audio messages on Facebook and Twitter with uWhisp
By
admin
Social networks attract more and more users, who use them to share from words to pictures, videos and now audio created for ourselves.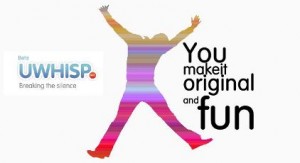 All through the free application uWhisp, which allows you to create and share audio messages on Facebook and Twitter, which can record from the same networks, through an extension to your browser.
uWhisp works very easily, once installed the extension, adds an icon in the windows web update of Facebook and Twitter, so you can record and publish messages to update your status.
To start using uWhisp, you must first download the extension from their official site, with versions for Chrome, Firefox and Safari, and then create an account, where you can configure access to your Facebook and Twitter, as well as other options.
Now you're ready to use uWhisp services. Open session on Facebook or Twitter and in the status window, you will see the icon of the application. Click on it and and starts recording.
Once you have recorded, you can listen to a previous version, and if you like, post it on Twitter or Facebook, using a customized URL to be displayed in your biography and also serves for use elsewhere.
A different and funny service, offers an original way to express you through social networks.