June 1, 2012
The Grim Tweeper: Tool to clean up the timeline of Twitter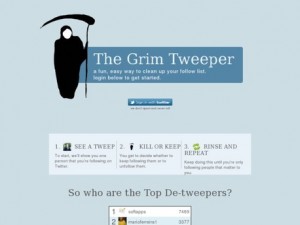 The Grim Tweeper is a tool that can clean the timeline of Twitter and to have higher quality messages and obviously of more interest to us.
Every Twitter user knows that it is necessary to maintain the clean timeline to be always attentive data and important information that is this giving to know by this means, something will be easily fixed using The Grim Tweeper because we will only have to give the necessary permissions to this application to clean our Twitter timeline quickly and easily.
In short, with the help of The Grim Tweeper will easily clean your Twitter timeline.