February 12, 2012
TimiKiwi allows you to create timelines of Twitter, Instagram and blogs
Some web tools are essential, some funny and some curious, but can be very useful. This is the case of TimiKiwi, a small application that lets you view a timeline of our publications on Twitter, Instagram, WordPress and Posterous. It is a very handy tool to show the development of a particular story.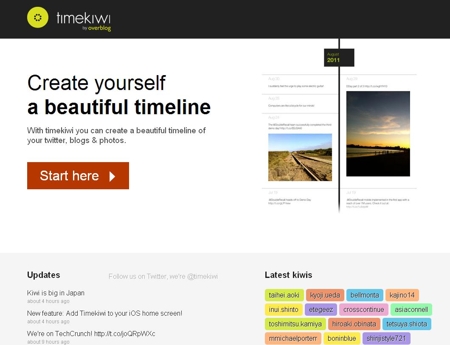 You talked about a particular topic on Twitter and want to see what was happening throughout the day or week? Or perhaps, photographed an entire day of work or fun and want to remember from moment to moment, for it serves TimiKiwi, a simple application create a timeline with your posts on the network.
Personal use of TimiKiwi is free and requires no registration. The best thing is that you can display any of your accounts, or other people's publications. What you do is enter your user name in the search field and press Enter. You can view the timeline of your favorite artists, for example, and share it on Twitter, Facebook, Google+ or through the mail.
By default, the line shown in a vertical, you can rotate horizontally to see it by clicking Rotate. It is easy to use, easy to read, you can share and can use it with any other account. Try it yourself.