February 10, 2012
Blether to start a private chat on Twitter
Twitter is definitely a social network that revolutionized the way to communicate virtually; with over 100 million monthly users, of which 50% goes to their profile at least once a day, Twitter is emerging as a unique platform in its style with little direct competition.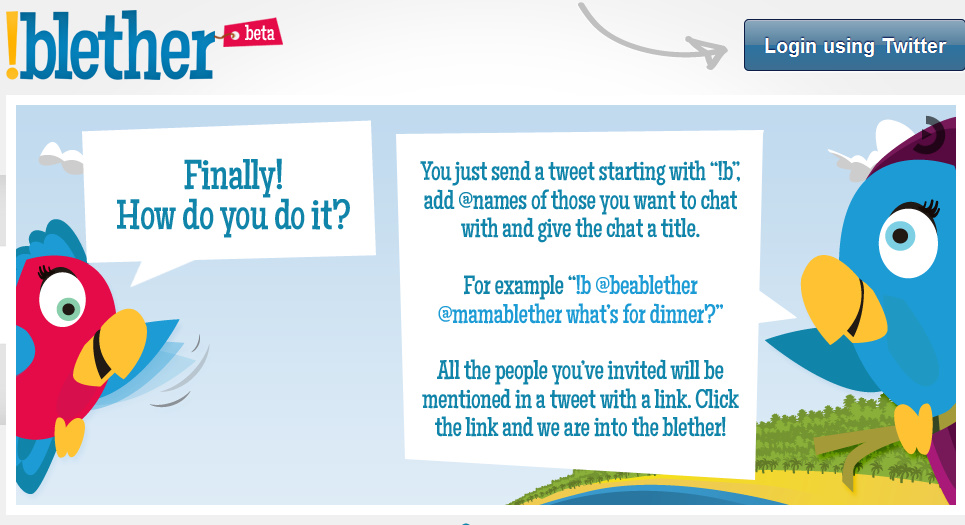 It is worth saying that the 55% most active users, enter profile from cell phone and although its interface is very simple with a space of 140 characters to share information of all kinds, many users still want something but do not have.
The need to include an instant messaging service between users, without having to be friends or followers. With the application Blether is possible to start a group chat with both friends and followers, as people with whom you have no relationship to a virtual conversation at some point in particular.
If you want to use Blether, just add a command in your Tweets inviting people who want to participate; and this command is !b, followed by the @ name of the user or users and finally the name which will be the chat. Once Tweet published, each user you mentioned in your post followed by the character @ will be invited to group chat via a link that will connect them all equally Blether.
The creator of the group chat has the control to remove a user, include more people or simply move the chat to another new window under another name. Operation on Blether you just use the Twitter API as the only connection resource, and runs on any platform that uses URLs, including computers, cell phones, and tablets.
On the web there are other applications that have the same purpose as Blether such as Zendit, Bonfire.im and Tribalfish, but are not as easy to use. Sign in to your Twitter account and start using the group chat service to communicate quickly and effectively with others.