January 29, 2013
TweetBeat: Tool you wish to leave the hashtags obsolete
The hashtags on Twitter are those words used preceded by a # to group tweets that address the same topic and facilitate their search on the net, but Kosmix launched TweetBeat tool that serves to find and catalog the news according appear in real time and promises to relegate the hashtags to the past.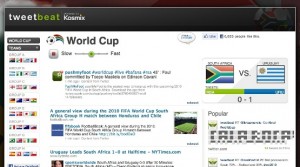 TweetBeat searches through all kinds of tweets through its semantic content, regardless of bearing the symbol # before or not, and so is able to search through all the information that is being shared on the network, not just the small percentage of marked as hashtags tweets. TweetBeat has successfully demonstrated that it is able to find all kinds of tweets about a search beyond the hashtags.
This tool is able to search through 90 million tweets per day, and works similar to any internet browser, showing you a list of results that highlights the most interesting based on criteria such as the number of retweets that have been made ​​or the number responses, besides looking at the tweet itself as many keywords related to the search we're doing.
According to the words of its creators, with TweetBeat you can "follow in real time the most interesting comments about any event that is taking place", and it is better to be able to cope with its promise, because the popularity of hashtags on twitter is very large and not be easy to substitute alternative. And you know, the man is a creature of habit…