February 5, 2009
Twestival: A Gathering of Twitter Communities for Charity
Twestival is a series of community gatherings featuring Twitter users worldwide on the 12th of February 2009. The goal of this is to bring together Twitter users locally for an evening of fun and also to raise money for charity.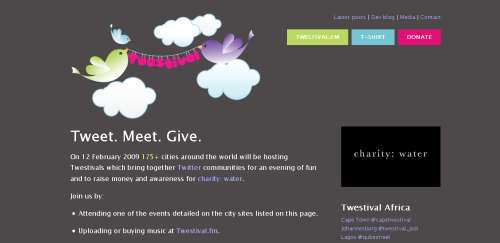 Basically, what you can do is to check out the city sites listed on their mainpage and then participate in the specific event. Or you can donate directly to the charity or spread word of the festival if you're not attending.
This kinda of community volunteerism just demonstrates the ability of Twitter as a platform to organize and coordinate efforts by many individuals. Apart from the altruistic motivations, Twestival is a great showcase of what Twitter can be used to achieve when users are organized collectively around a specific theme.
Right now, we're all concerned with stuff like what our friends are doing, checking the latest Twitter client or reading about how to use Twitter to market yourself. It's refreshing to see how Twitter (and any other online social networking website) can pull people out of their immediate self-interests or ongoing social circles to engage in something that isn't all virtual.
After all, people are meeting up IRL (in real life) to meet the faces behind the avatars. If someone ever tells you that Twitter is a waste of time and won't amount to anything in the 'real world', show them to Twestival.