April 16, 2012
Twissues: Tool to search tweets in your timeline
If you are a regular user of the microblogging network, find a tweet from the tide of the timeline may be an impossible task. Skip message after message may take too long and most likely end up exhausted and the text you wanted. For tasks like this we have Twissues, a tool that allows us to search within ourselves.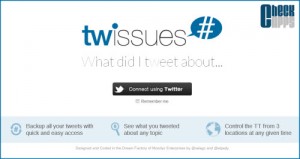 Twissues is a simple but useful web application with which we look, very simple, the tweets that both our interest and that was lost in the tangle of text that can be our timeline. Just enter a search term and get all related messages.
This is a simple tool that does not require registration and you connect directly to your Twitter account. To login for the first time, you will see that the application starts indexing your tweets and then you can start exploring. One thing to note is that the Twitter API limits tweets available at the last 3200, so you can not perform searches from those updates.
To perform a search, we receive the results of our related tweets item and the latest tweets from other users thereon. The application is free and you can try more.