March 14, 2012
Twitter functions via email
To use Twitter via an email you can count TweetyMail, a tool that provides the ability to use certain features of Twitter via an email, among which is the option to send tweet and messages as well as receiving notifications directly into the email inbox.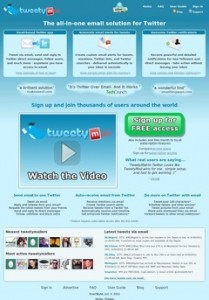 That is an alternative to use Twitter via email as they have access to updates of new tweets and sending their own, can also retweet and receive notifications in the email.
It is certainly an interesting alternative for users who need to have Twitter features directly to your email. This site has 2 options to enter and test their tools, the first is by means of a registry that includes a free month of use in addition also can enter through an invitation and eventually find options with different access plans.
Each tool has very accurate and can even view images and a video demonstration with the basic operation of the platform directly on your homepage.