September 13, 2012
Twitter now allows you to use banners in their profiles, much like the biography of Facebook
Social networks are constantly being updated to keep users interested and Twitter is no exception. Now, the micro-blogging network added changes to the design of the profiles.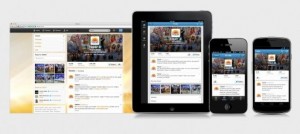 Twitter users, and can use banners to adorn the top of their profiles, with an aesthetic that reminds us, perhaps too, the biography of Facebook.
From Twitter, explained that they want to give more importance to the visual appearance of the contents that are shared on the network of micro-blogging and re-design of the profiles aimed precisely at that.
But the banners or profile header images are not only in the web version, but also in mobile applications for Twitter for Android, iPad, iPhone and iPod Touch, which received an update.
If you want to add a cover image to your Twitter profile, you just need to enter site and clicking on Edit Profile, and then clicking on the design. There, you'll see the ability to change the header image.
Twitter, recommends the use of images with a minimum size of 1252 x 626 and a maximum weight of 5 Megs. Try to use a picture that identifies you and go on with the style that you keep within your tweets on the social network.