September 11, 2012
RumbleTalk: add chat to your Blog or Facebook Page
By
admin
If you manage a busy blog or manage a website of a company or a facebook page of a venture, can offer visitors the opportunity to talk or chat and form a true community.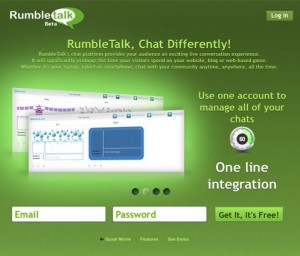 And that's when you can use free tool that inserts a window for dialog allowing you to use the credentials of Facebook or Twitter to register.
In addition to provide your visitors the possibility of a "Like" on the Facebook page of the company, increasing the SEO of it. Your audience will retweet and contribute to the content of the web site or blog.
There are plugins and can be embedded in different platforms:
General Code to embed
WordPress Plugin
Joomla Plugin
Drupal Plugin
PhpBB Plugin
Megento Plugin
How to embed in Tumblr
Method of embedding in Facebook
Form embed in Wix
Form embed in Blogger
Form embed in TypePad
Form embed in Yola
Form embed in Squarespace.
As administrator of the chat, you can have total control of it and can manage attendees and to prohibit certain words if you want to moderate and maintain control so that there is no spam or unwanted advertising.