July 28, 2012
Post voice messages on Facebook and Twitter with Lalo.Li
By
admin
Social networks are the place to share what we do and think and, therefore, we are always writing messages on Facebook and Twitter, although it would be more effective to say them aloud.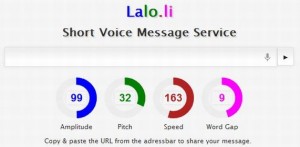 That's what Lalo.Li, an online service that lets you create and publish audio on social networks very easily, as you only need to write what you mean and the application converts it into sound.
Lalo.Li is free and simple to use. Even allows you to easily configure the speed of the words, tone of voice and even the time between one word and another, for better understanding.
To take advantage Lalo.Li service, just enter into the site and write the text which is then transformed into audio, you can listen by clicking on the Play icon.
Instead of writing, you can also record your message using your computer's microphone, but the final audio will be with the voice that brings Lalo.Li, which can sometimes sound a bit robotic and strange pronunciation, as it is in English and the letters are pronounced differently in that language.
Once you have set your audio message, you can share on social networks like Facebook and Twitter via direct publication buttons or, if you want to, do so through a link that the site gives you.
An original tool for say things differently in social networks.