July 25, 2012
TwentyFeet: Meet and publish your weekly statistics on Twitter
The users of Twitter are usually quite active and, the majority, tweets varies times per day and do it well, gain followers.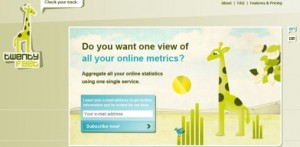 If you're a fan of microblogging, today we want you to know and try the application TwentyFeet, which examining your account, gives you a summary of the activities that you placed this week on Twitter.
Free, TwentyFeet not only provides information as the amount of writings tweets and retweets that you received, but also data as the number of new followers that won and lists to which you were added.
Use TwentyFeet is simple. Sign in to the site and register, but you can also use your Twitter account to identify. Now, only give the relevant authorization and indicate your email.
The next step is to click on See My Charts see the statistics; you can opt for to show you the past week, month, or any other time. Also, you can add other accounts such as Facebook and YouTube, etc..
TwentyFeets offers other services, but so paid, so if you want more finished statistics you will have to pay some dollars. If you are a regular user, it will be enough to you with what the application delivers free.