October 14, 2012
TweetDeck is updated with new light-colored theme and other improvements
Since some time ago, Twitter bought TweetDeck, desktop tools chosen by the users to use the network of micro-blogging. The column layout of all the information and the ability to edit retweets, something that can not be done from the website, and being able to manage multiple accounts of social networks, it became very popular. Now, the company announced the first major update of this application. We tell you the details.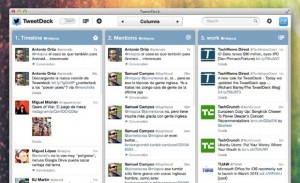 TweetDeck 2, as it was called, is ready for download or web use. The new version allows us to modify the classic black interface, resize the text, including the recently released covers of Twitter and better navigation.
To move from the classic black background color to white and light blue, simply use the small button located in the top left.
To change the font size, you must enter in Settings; you'll find an option menu displaying the small scroll wheel located on the top right. This opens a new window, select General and where it says Font size, choose Small, Medium and Large. This option will be useful to adapt the tool to your desktop and do not miss a thing.
TweetDeck is free and you can use it as a web application (ie from the browser) or on the desktop of your computer, Mac or Windows.