April 20, 2009
Twipick: A Real-Time Search and Stream of Twitpic Images
Ever wanted to see what people are posting in real-time to Twitpic, the popular image sharing website for Twitter users? Now you can with twipick, a real-time stream of pictures posted to Twitpic.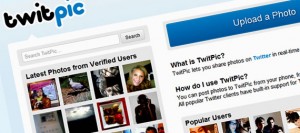 Not only you can view the latest Twitpic images but you can also do a keyword search for just about anything, although you aren't likely to get results for obscure terms. The search engine seems to pull results based on keywords used in comments and descriptions on twitpic, which means you might not always get what you're looking for. But still it offers fairly good results.
Hovering over each picture shows you the description and clicking it opens up a pop-up which allows you to retweet the picture or visit the original page at Twitpic. And then there are icons which show the number of retweets for each picture as well, along with a trending topic search on the left sidebar.
All in all its a fun tool to view and if you're bored, this will give you a good source of entertainment. The only problem it was sometimes rather laggy and when you click another application on your desktop, the twitpic stream freezes up and you have to refresh the page. This can be jarring when you're multi-tasking.
Aside from that, it's a great real-time streaming search engine.