June 24, 2012
TwitterFone to send messages to Twitter using voice!
By
admin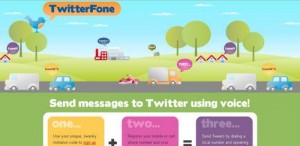 TwitterFone helps you to tweet without using the keyboard or your fingers. In this case, thanks to TwitterFone, your tweets will be published with a simple phone call.
To do this you must provide the following information to the site: your phone number (cell), data from your Twitter account and ready and you can send tweets through a local call rate.
And not only you can send your tweets, you will also be enabled to listen to your shipments and pressing #2 while tapping the tweets you can record the @Replies. Direct messages work the same way.